1815 Adolf Friedrich Erdmann von Menzel, German Realist painter who died on 09 February 1905. — LINKS — Meissonier's Studio — 49 prints at FAMSF — The Artist's Sister with a Candle — Portrait of a Man,

1807 Le royaume de Westphalie pour Jérôme Bonaparte.
Napoléon en fin stratège, créé de toutes pièces le royaume de Westphalie qui lui est nécessaire pour atteindre l'Autriche. Il en donne, comme part hasard, la couronne à son plus jeune frère, Jérôme. Le 15 novembre, l'empereur lui a écrit :
"Mon frère, vous trouverez ci-joint la Constitution de votre royaume. Cette Constitution renferme les conditions auxquelles je renonce à tous mes droits de conquête et à mes droits acquis sur votre pays. Vous devez les suivre fidèlement. N'écoutez point ceux qui vous disent que vos peuples, accoutumés à la servitude, recevront avec ingratitude vos bienfaits."
Les bienfaits du roi seront d'interminables fêtes...

1794 John Berney Crome, British artist who died on 15 September 1842. — son of John Crome "Old Crome" [22 Dec 1768 – 22 Apr 1821].
1765 Eli Whitney, inventor: cotton gin and uniformity method of musket manufacturing: beginning of mass production.
1708 Francis I Holy Roman emperor (1745-1765)
1632 Albert Girard, mathematician.
1632 Lansberge, mathematician.
1626 Christina queen of Sweden (1644-54)who abdicated after becoming Catholic
1614 Gonzales Coques, Flemish painter specialized in portraits, who died on 18 April 1684. — LINKS — Portrait of a Man — Un Intérieur Hollandais (etching)
1587 Marten Ryckaert, Flemish artist who died on 11 October 1631.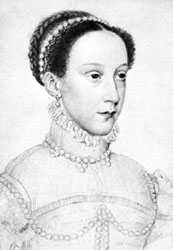 1542 Mary Stuart , Queen of Scots (1542-67) and queen consort of France (1559-60).
Her unwise marital and political actions provoked rebellion among the Scottish nobles, forcing her to flee to England, where she was beheaded on 08 February 1587 as a Roman Catholic threat to the English throne. [< detail of a 1559 Clouet drawing]
In Linlithgow Palace in Scotland, a daughter is born to James V, the dying king of Scotland. Named Mary, she was the only surviving child of her father and ascended to the Scottish throne when the king died just six days after her birth. Mary's French-born mother, Mary of Guise, sent her to be raised in the French court, and in 1558 she married the French dauphin, who became King Francis II of France in 1559 and died in 1560. After Francis' death, Mary returned to Scotland to assume her designated role as the country's monarch. Mary's great-uncle was Henry VIII, the Tudor king of England, and in 1565 she married her English cousin Lord Darnley, another Tudor, which reinforced her claim to the English throne. This greatly angered the current English monarch, Queen Elizabeth I.
On the night of 09 February 1567, Darnley was mysteriously killed in an explosion at Kirk o' Field, and Mary's lover, James Hepburn, 4th earl of Bothwell, 31, was the key suspect. Although Bothwell was acquitted of the charge, his marriage to Mary in the same year enraged the nobility, and Mary was forced to abdicate in favor of her 1-year-old son by Darnley, James. Mary and Bothwell were parted forever at Carberry Hill (where her troops refused to fight the rebels) on 15 June 1567, Bothwell to exile and solitary confinement where he died insane on 04 April 1578, Mary to imprisonment on the tiny island of Loch Leven.
In 1568, she escaped from captivity and raised a substantial army but was defeated by her Scottish foes and fled to England. Queen Elizabeth I initially welcomed Mary but was soon forced to put her cousin under house arrest after Mary became the focus of various English Catholic and Spanish plots to overthrow her. In 1586, a major Catholic plot to murder Elizabeth was uncovered, and Mary was brought to trial, convicted for complicity, and sentenced to death.
On 08 February 1587, Mary Queen of Scots was beheaded for treason at Fotheringhay Castle in England. Her son, King James VI of Scotland (who had not seen his mother since infancy), calmly accepted his mother's execution, and upon Queen Elizabeth's death in 1603, he became James I, king of England, Scotland, and Ireland.

1508 Gemma Frisius, mathematician
--65 -BC (DCLXXXV A.V.C.) Quintus Horatius Flaccus (Horace), Rome, lyric poet, satirist
His Satires are 10 poems written in hexameter verse and published in 35 BC. The Satires drew on Greek roots, stating Horace's rejection of public life firmly and aiming at wisdom through serenity. He discusses ethical questions: the race for wealth and position, the folly of extremes, the desirability of mutual forbearance, and the evils of ambition.
In his 17 Epodes mockery is almost fierce, the metre being that traditionally used for personal attacks and ridicule, though Horace attacks social abuses, not individuals. Horace published his Epodes and a second book of eight Satires in 30-29 BC
Horace published three books of Odes, 88 short poems, in 23 BC. Horace, in the Odes, represented himself as heir to earlier Greek lyric poets but displayed a sensitive, economical mastery of words all his own, about love, wine, nature, of friends, of moderation.
He also wrote epistles (Book I was published 20-19 BC)--literary "letters" that were more mature and profound versions of the Satires-- abandoning "frivolous" lyric poetry for a more moralistic kind of verse. In three further epistles (much longer than any in the first book), relating to poetic activities, Horace abandoned all satirical elements for a sensible, gently ironical stance, praising moderation. Two epistles make up a second book, and the third, the Epistle to the Pisos, was also known, at least subsequently, as the Ars poetica. These last three epistles embody literary criticism in a loose, conversational frame. The Epistle to Florus (Book II, Epistle 2) explains why Horace abandoned lyric poetry for "philosophy." The best poems, Horace says, edify as well as delight; the secret of good writing is wisdom (implying goodness); the poet needs teaching and training to give of his best. The "Epistle to Florus" may have been written in 19 BC, the Ars poetica (consisting of nearly 30 maxims for young poets' guidance) in c. 19-18 BC, and Book I's last epistle, dedicated to Augustus,in 17-15 BC. In the last epistle contemporary poetry is asserted against Rome's earlier literary background.
In 17 BC Horace composed in a lyric metre the Carmen saeculare for ancient ceremonies called the Secular Games, which Augustus had revived to provide a religious sanction for his moral reforms of the previous year. Horace next completed a fourth book of 15 Odes, mainly of a more serious and political character than their predecessors. The latest of these poems belongs to 13 BC. Horace died on 27 November 8 BC.
--- Horace, dans sa jeunesse servira comme officier dans l'armée de Brutus.. Il deviendra pourtant plus tard favori de l'Empereur Auguste.. Son ami. Virgile le présente à Mécène., grand protecteur des artistes, dont il devient le protégé. Les Odes d'Horace. restent à jamais immortelles, mais ce poète délicat et plein d'esprit a également composés des Satires et Épitres, dont l'une constitue ce qu'on appellera plus tard L'Art Poétique.
HORACE ONLINE:
in the original Latin: Carmina De Arte Poetica Satyrarum libri
in English translations: The Works of Horace The Art of Poetry: To the Pisos Odes